Pan Pacific Hotels Group appoints industry hero Jean-Philippe Jacopin as General Manager of its flagship eco-hotel, Parkroyal Collection Pickering, Singapore. We share Jacopin's take on how the luxury hotel market responded to the pandemic, market recovery, and, what changes will be here to stay.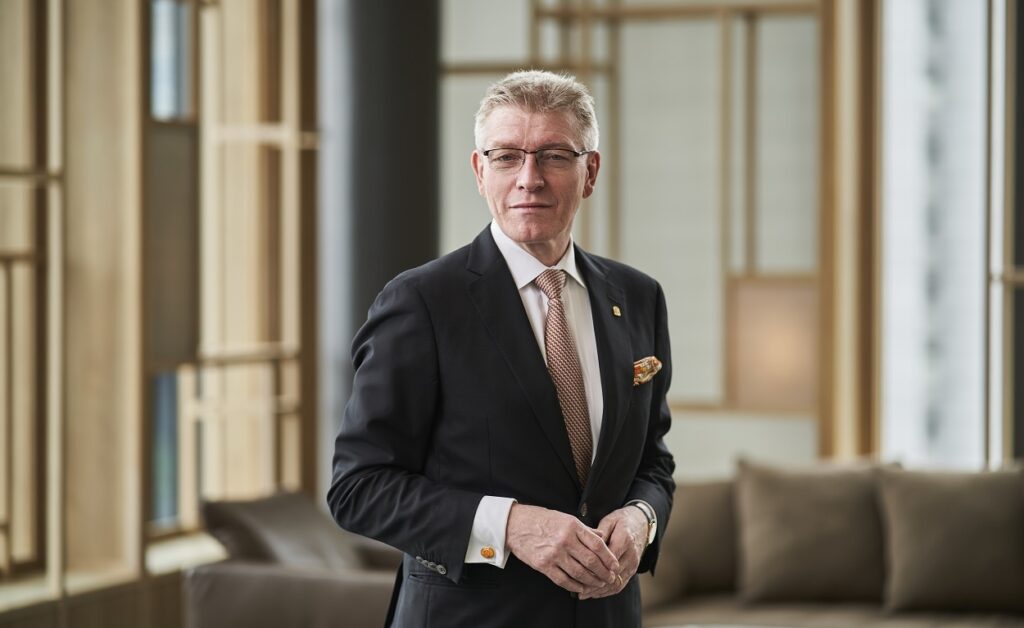 Known as 'JP' in the industry, Jean-Philippe Jacopin is one of the leading talents in the international luxury hotel and resort sector. Hailing from a family of hoteliers, Jacopin's thirty-year career has seen him hold senior management positions for some of the world's leading hospitality brands in Europe and Asia-Pacific.
A 22-year stint with Hilton International took the French national from the UK and Ireland to Japan, South Korea and China before joining Shangri-La Hotels and Resorts in Xi'An.
Jacopin went on to manage The Pavilions Hotel Resorts in Thailand for two years and, most recently, was General Manager of Orchard Hotel Singapore.
Commenting on his latest appointment, Jacopin says Parkroyal Collection Pickering is more than an icon in Singapore's hotel sector.
"Through its architecture, design, commitment to sustainability and guest experience, the hotel is the embodiment of the future of our industry. It is a privilege for me to take on the role of General Manager and with the support of a fabulous team around me, I look forward to ensuring the hotel's continued success in the years to come," says Jacopin.
Pan Pacific Hotels Group Vice President of Hotel Operations Gino Tan says the Group is delighted to welcome Jacopin to the fold.
"His leadership and wealth of experience in the international hospitality sector will not only benefit Parkroyal Collection Pickering but the Group as a whole as we continue on our mission to redefine the hospitality experience in Singapore and beyond," says Tan.
Featuring a sustainable hotel-in-a-garden design concept, Parkroyal Collection Pickering is located in the bustling Chinatown precinct.
Since opening in 2013, the hotel claims to have won a multitude of honours for its architecture, sustainability and service, including the FIABCI World Prix d'Excellence Awards, Singapore Experience Awards, Asia's Leading Green Hotel and World's Leading Green City Hotel by the World Travel Awards.
Given the unforeseen drop to global tourism over the past 18 months, we asked Jacopin to share how the luxury hotel market is coping under duress.
"With a modest domestic market in Singapore, we depend largely on regional and international inbound travellers. With the unprecedented impact the pandemic has causing borders to close, there is no doubt the hospitality industry has taken a massive hit. At the onset of the pandemic, [our hotel] played a part in supporting the national effort to help curb the spread of Covid19 by housing returning residents, to ensure that they are well taken care of as they arrive in Singapore. It also served business travellers coming to Singapore as part of the government's 'Green Lane' initiative. When the hotel reopened to the public in November 2020, we shifted our focus to the domestic market, introducing a variety of staycation experiences, often in collaboration with specialist operators to provide our guests unique and enriching experiences," says Jacopin.
With the current focus on the domestic market, Jacopin says they are seeing a shift to a younger, more adventurous demographic on the lookout for exciting and memorable experiences that are more than just a stay in a hotel.
"As locals tend to have higher expectations, we have introduced a host of complimentary activities, from Architecture Tour to Mixologist Class, Yoga, Pilates and more, for guests to get the most out of their stay here," says Jacopin.
In terms of perspectives on how to creatively and logistically prepare for recovery, particularly with boosting local patronage during international travel restrictions, Jacopin says the pandemic has greatly accelerated some pre-existing trends that Parkroyal Collection Pickering will continue to embrace.
"Beyond making the guest experience a safer one, it is also important to ensure that it is a better one as well. We responded to the pandemic swiftly with heightened awareness of safety, hygiene and cleanliness through the Group's launch of the 'Pan Pacific Cares' programme, in partnership with Diversey, a leader in healthcare and infection prevention, to implement a range of protocols regarding enhanced hygiene measures in guest rooms, meeting facilities and restaurants and dining outlets," says Jacopin.
One indisputable outcome of the pandemic, has been the acceleration of digital transformation across all sectors, and for hoteliers, Jacopin says they are no exception.
"Digital innovation, [such as] contactless payment and digital menus are just two examples of where new safety measures have led to improved operational efficiency and customer experience. We have also introduced a digital concierge service to enhance the guest experience and improve productivity. Guests are now able to seek information, put in request for extra amenities, order in-room dining and make reservations for facilities and services at a touch using their phones. This full contactless guest experience utilises AI to optimise hotel operations and offers seamless communication between the guests and hotel associates," says Jacopin.
As with other sectors too, Jacopin says the industry is witnessing notable shifts in spending patterns with themes such as sustainability, wellness and a more values-driven approach to consumption taking on greater importance.
"Some of our efforts include our plant-based menu which features an array of vegan dishes, usage of biodegradable napkins and potato starch straws in the restaurant, placing separate recycling bins for plastic, glass and paper in all guest rooms, together with other energy and water saving features throughout the hotel. With this shift from buying things to buying experiences, driven in part by younger, more experiential-minded consumers, we have initiated collaborations with a number of specialist sports, culture, F&B and lifestyle operators to curate truly unique staycation experiences for guests," says Jacopin.
Examples include A Ride To Remember, offering a Crazy Rich Asians-style experience touring colonial architectural enclaves in a sidecar; the Bait & Breakfast staycation where guests can enjoy a 3-hour private fishing trip venturing around the Southern Islands as part of a hotel staycation and a collaboration with Hong Lim Food Centre to provide diners with the very best of Singapore's notorious hawker cuisine.
"We've also partnered up with some of our favourite tours and attractions for guests to uncover the hidden gems in Singapore at exclusive rates – from Chinatown Instawalk by Tribe Tours to Lion City Cycling Tour by Bike Around Tour and Chinatown Trishaw Tour by Trishaw Uncle," says Jacopin.
As nations undertake a collective effort to roll out vaccinations, and discussions abound on the introduction of vaccination passports to help encourage non-essential travel again, we asked Jacopin when he thinks the hotelier's market will make a full recovery, and, the factors underpinning it.
"Travel will return but we expect the rate of recovery for the hotel industry to take longer than other sectors. A return to normalcy will largely depend on lateral travel lanes and bubbles with selected countries where quarantines are not required. Until a high level of immunity has been achieved across the globe, the tourism numbers will take awhile to bounce back. The key factors that will drive it include governments easing border restrictions, carriers opening up flight routes again and customers feeling that it is safe to travel again – all of which will be dependent on an effective vaccination programme roll-out and a coordinated international response to the easing of travel restrictions," says Jacopin.
In the short term, Jacopin says his focus remains on the domestic market and staycations which is a trend he expects to remain for the foreseeable future.
"We expect to see a significant surge in international travel as soon border restrictions are lifted, likely led by couples and younger travellers. Conversely, we predict that it will be 'non-essential' business travel that will be the slowest to recover and with the acceleration of digital adoption, will likely look very different to how it did pre-pandemic. But there is also no question that the work-from-home directive, which has forced companies to re-evaluate their office space needs, presents opportunities too," says Jacopin.